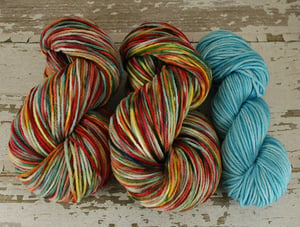 $

55.00
Once in a while I need to dye something that is completely free form with too many colors to mention. I would like to categorize it as One of A Kind, although I wrote down the recipe. It consists some pinkish red due to the nature of kettle dye.
Approximately
4oz/250 yards each plus 2oz/125 yards trim
For more picture, go to:
http://hyenacart.com/KnitNight/st/1881/33371/Freedom-Rainbow-8oz-3ply-BBR-Merino-2oz-trim
If you are thinking of purchasing more than one, please let me know and I'll give you a quote. It could be more or less depending on the items and location.
Canada and International includes third party insurance.